EP469 & EPA-0127
QUALITY REAL ESTATE IN THE NORTH PERTH BASIN
The Perth Basin runs 1300km north by north-northwest, along the southwestern margin of the Australian continent 100-350km north of Perth, WA.

The structurally complex basin exceeds 100,000km2 and was formed during the separation of Australia and India in the Permian to Early Cretaceous period.

Initial exploration for hydrocarbons began back in the 1950s with over 300 wells drilled. This led to the commercialisation of 20 fields of disparate size including the Dongara field with 508 Bcf of original in-place gas and 16.6 104 MMbbl of original in-place oil.

Initially the exploration success rate was as low as 10% but advances in exploration and drilling technologies over the last couple of decades such as 3D seismic and advanced re-processing have raised this success rate significantly. Recent discoveries near to our acreage have reinforced our strategy to explore mature and frontier basins.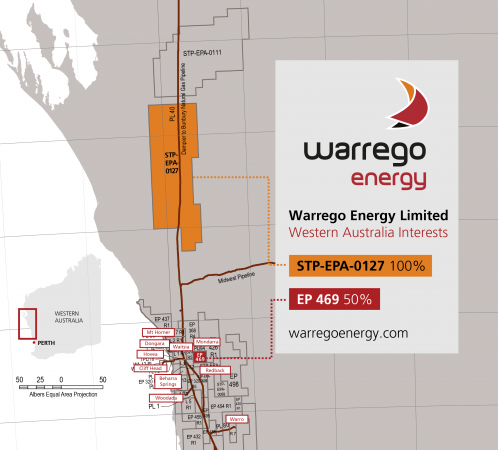 The discovery of the Waitsia field by AWE was a game-changer for the Perth Basin. Notably, in 2017, AWE's final well in Waitsia's appraisal program tested at one of the highest flow rates in Australian history.

AWE reported that Waitsia 4 flowed at an instantaneous maximum rate of 90 MMcf/d of gas from the Kingia sandstone reservoir.

AWE accepted a $602m takeover from Mitsui at the beginning of 2018.
Warrego Assets
EP469 is 16km from Waitsia and shares many similar reservoir characteristics. Former AWE CEO/Managing Director David Biggs joined the Warrego Energy board as a non executive director in March 2019. Following a reorganisation of the business in August 2020, Mr Biggs became Warrego Energy CEO Australia
Warrego's (ASX:WGO) maiden well West Erregulla-2 spudded on 3rd June 2019. This exploration well discovered gas accumulations in three separate horizons: the basal Wagina Sandstone, the Kingia Sandstone and the High Cliff Sandstone. The EP469 joint venture (Warrego 50%) tested the discovery in November 2019 and the results were significant.
Find out more about EP469
In a further demonstration of our confidence in the Perth Basin, Warrego (ASX:WGO) acquired exploration permit application STP-EPA-0127, in the north Perth Basin.
EPA-0127, which on final grant will be 2.2m acres (8,700 km2) will be the largest exploration permit in the Perth Basin.
Find out more about EPA-0127