ONE OF THE MOST EXCITING DEVELOPMENTS IN AUSTRALIAN OIL & GAS.
Onshore Exploration Permit EP469 was awarded to Warrego Energy 100% in April 2010. It is situated 230km north-east of Perth in the North Perth Basin and comprises an area of 224km2.
Warrego (ASX:WGO) worked with the relevant authorities, the indigenous community and other key stakeholders to obtain the necessary approvals to undertake a 3D seismic campaign in Q4 2014.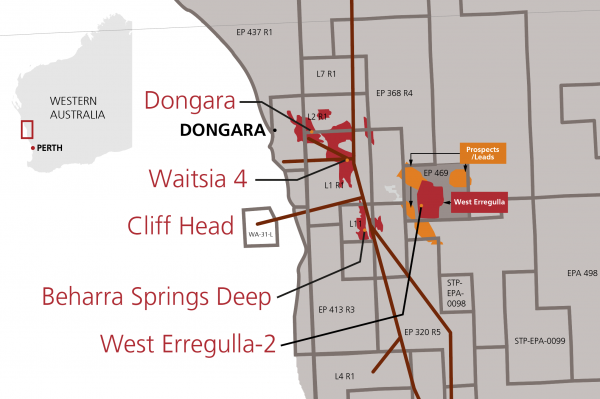 Warrego (ASX:WGO) secured capital in 2014 to progress the pre-appraisal seismic programme by way of a AU$40M farm out with Dutch Oil Companies Dyas BV and Mazarine Energy BV. The subsequent processed seismic data revealed significant prospectivity.

Warrego (ASX:WGO) recovered 100% interest in the Permit in 2016 after Dyas BV and Mazarine Energy BV pulled out of Australia because of the oil price collapse in 2015.

In June 2018, Warrego (ASX:WGO) farmed out 50% of EP469 and operatorship to Strike Energy Limited (ASX:STX). Strike funded the cost of drilling and completing one well (West Erregulla-2 or WE-2) within the Permit, up to a maximum expenditure amount of A$11M.

West Erregulla-2 was spudded in June 2019.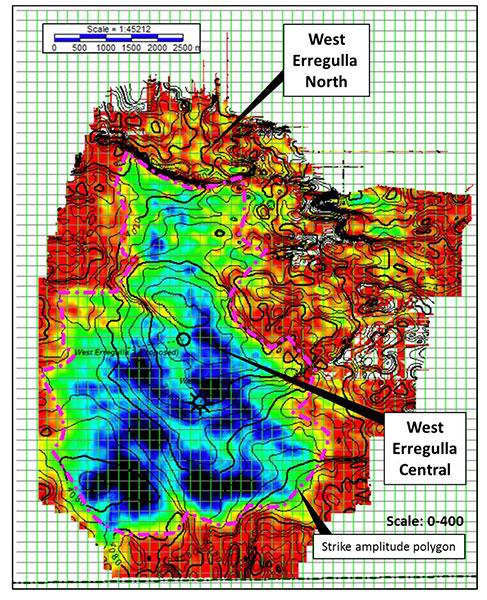 In 2019 the EP469 Joint Venture reprocessed and reinterpreted the 2014 West Erregulla 3D seismic. The reprocessed seismic improved mapping confidence, led to an increase in chances of success (with WE-2) and increased pre-drill estimate of gas in place.

Warrego's maiden West Erregulla-2 exploration well was spudded in June 2019. This well discovered material gas accumulations in three formations: the basal Wagina Sandstone, the Kingia Sandstone and the High Cliff Sandstone. After successful flow testing and volumetric calculations, West Erregulla is recognised as one of the most attractive onshore Australian appraisal/development projects.
From shallow-to-deep, the following three gas accumulations were drilled, logged and evaluated:
Secondary Target: the basal Wagina Sandstone. A significant conventional gas discovery was made which may be analogous to the nearby Beharra Springs field. Wagina Sandstone - Strong gas shows.
The Wagina was intersected at 4,106m MDRT (Measured Depth referenced to Rotary Table). Net pay of 10m in a gross Wagina gas column of 79m was logged.
Primary Target 1: the Kingia Sandstone. A major conventional gas discovery was made with equal or better porosity and permeability compared to the Kingia sequence encountered at Waitsia.
The Kingia was intersected at 4,753m MDRT and was substantially thicker than anticipated. 58m of net pay in a gross Kingia gas column of 97m was logged. Reservoir quality is good with porosities up to 19% (average 14%), permeability of 102mD and reservoir pressure in excess of 6800psia.
Primary Target 2: the High Cliff Sandstone. Again, a major conventional gas discovery was made which is comparable with the High Cliff sequence encountered at Waitsia.
The High Cliff was intersected at 4,918m MDRT. Net pay of 10m in a gross gas column of at least 22m was logged. Excellent conventional reservoir quality with high gas saturation and porosities up to 16% were recorded.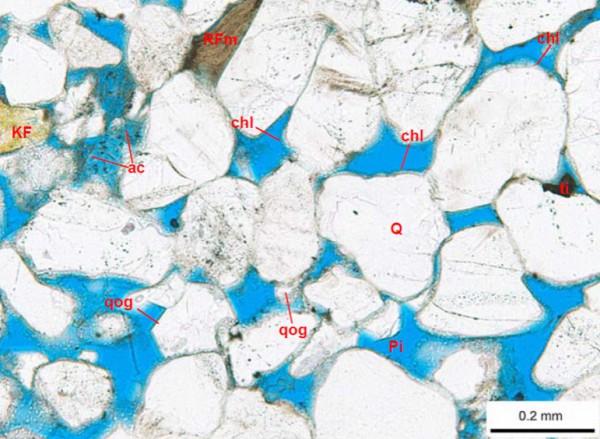 Figure 1: Electron microscope picture of the reservoir in West Erregulla-2. The rock sample comes from a side-wall core taken in the Kingia Formation at a depth of around 4800 meters. It shows chlorite coatings to the sand grains (the greenish coats labelled "chl"). The blue areas are porosity where the gas is situated. Chlorite coatings have preserved good quality reservoir at significant depths.
In November 2019 the EP469 JV Operator released an initial 2C Contingent Resources estimate of 1,185BCF for the Kingia and High Cliff Sandstones. Based on this resource estimate the field is believed to be one of the biggest conventional gas fields discovered in onshore Australian history and the size of the resource booked from the well is indicative of a large contiguous structure.

To provide certainty to potential gas buyers and optimise term and price outcomes in negotiations for gas processing and sales, Warrego engaged reserves certification group RISC Advisory to undertake an independent, third party review and evaluation of West Erregulla.

On 11th May 2020, RISC confirmed Central Area 2C Contingent Resources of 513 Bscf gross from 1 well and an additional upside Central Area potential in 3C estimate of 966 Bscf gross. (Link to RISC / Warrego ASX Release)

The Northern Area Prospective Resources of 102 Bscf gross targeted by West Erregulla-3 could become a contingent resource in the event of a successful WE-3 well.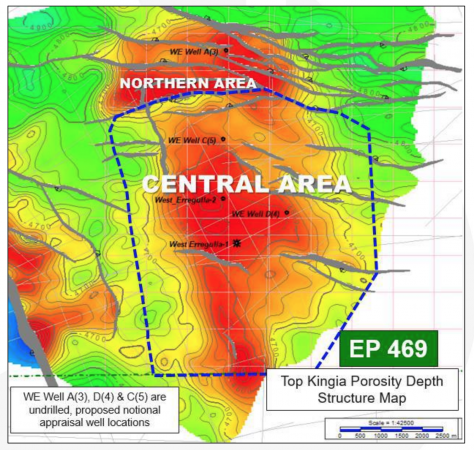 Cautionary Statement: The above estimated quantities of petroleum that may potentially be recovered by the application of a future development project(s) relate to discovered and undiscovered accumulations. These estimates are un-risked and have associated risk of development. Further exploration, appraisal and evaluation is required to determine the existence of a significant quantity of potentially moveable hydrocarbons.