THE LARGEST EXPLORATION PERMIT IN THE PERTH BASIN
EPA-0127 is 130km north of West Erregulla and the West Erregulla / Mitsui - Beach Perth Basin Waitsia play which re-invigorated Perth Basin exploration and development and led to Mitsui acquiring AWE for $602M in early 2018.

The WA fracking ban will apply to the exploration permit to be granted pursuant to this application.

Native title negotiations are ongoing and advancing towards conclusion.

EPA-0127, which on final grant will be 2.2m acres (8,700 km2), will be the largest exploration permit in the Perth Basin.

EPA-0127 extends across much of the Coolcalalaya geological sub-basin. Possible analogues to West Erregulla and Waitsia are feasible. The application area is traversed by the Dampier to Bunbury Gas Pipeline and is located immediately north of the Midwest Pipeline.
EPA-0127 situated between North Perth Basin and South Carnarvon Basin
Description
EPA-0127 is 185km long and about 55km wide and essentially covers the entire Coolcalalaya Sub-Basin. This basin contains up to 9000m of Neo-Proterozoic, Palaeozoic and Mesozoic sediment. It lies at the northern limit of the prospective and partially developed Perth Basin, which produces conventional oil and gas from several fields.
Geologically EPA-0127 provides a link between the North Perth and South Carnarvon Basins.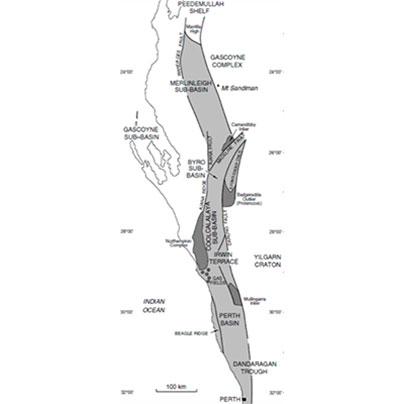 Main exploration targets identified in the Coolcalalaya sub-basin are:
Conventional (Waitsia/West Erregulla) Permian sands
Conventional Permo-Carboniferous tilted fault blocks
Bouguer Gravity anomaly map indicative of structuring in EPA-0127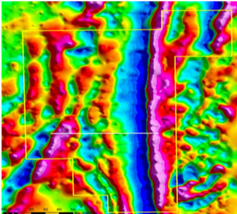 The Coolcalalaya basin is essentially unexplored, but has good potential because it forms a link between the Perth and Carnarvon Basins. It is a recognised deep, ancient basin with identified structures. Potential source rocks in deep kitchens are present as well as possible reservoirs equivalent to the West Erregulla/Waitsia conventional gas reservoirs. Potential plays are evaluated to be present in conventional tilted fault blocks, involving Permo-Carboniferous sandstone reservoirs along the western edge of the main trough, and sourced from the Devonian Gneudna Formation.
North Perth Basin Work Programme
The following work programme has been offered:
Full review of existing data: wells, outcrop geology, geochemistry, cores, seismic
Stratigraphic drilling to recover samples and test hydrocarbon presence
Seismic reprocessing as well as new 2D seismic acquisition and interpretation
At least one exploration/appraisal well
Evaluation studies and resource assessment
The execution and phasing of the offered work programme is dependent on the date of grant. The permit will not proceed to grant until native title negotiations are concluded.